One of the hardest parts of watching and loving movies is the inevitable task of whittling them down into some sort of "best-of" list.
In an ideal world, films wouldn't be judged by numbers or percentages, but by what they stir up, inspire, or accomplish. By the way they make us laugh, make us cry, make us think, keep us on the edge of our seats, or open our imaginations.  Films are more than numbers on scales and placements on lists. Unfortunately that's just the way we are forced to go about explaining why or how we connected with a film or not. Films are not always meant to be mathematically analyzed; they are meant to be felt.
2017 was a great year at the movies. There could be plenty more said about why each of these moves below were so wonderful but there's only so much room on the interwebs. The best films are, at their core, about what it means to be human – with all the good, the bad, and the ugly. The best ones do it with delightful stories to wrap our heads around, characters to care about, and epic sights to feast our eyes upon.
These are the ones that did it best this year.
---
MY FAVORITE FILMS OF 2017:
BTW, there were a lot of good movies this year. Even though all of them didn't make my cut of Favorite Films, I still want to list the rest of the  movies I liked as Runners-up: because they were good and they're still worth a watch!
THE RUNNERS-UP:
---
20 — Last Flag Flying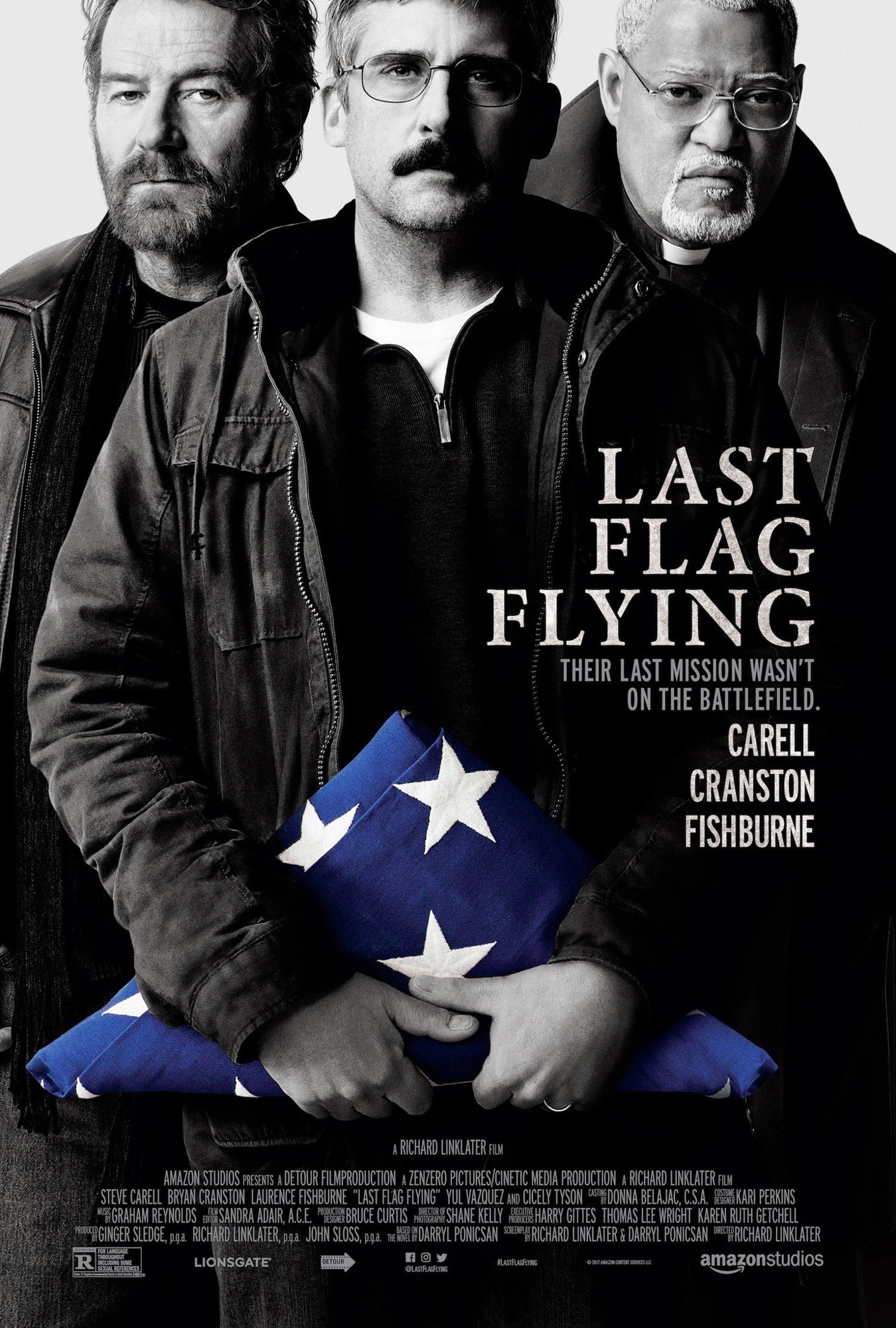 When a grieving father asks his old Marine buddies to accompany him to his son's funeral, the three set out on a road trip to Arlington Cemetery. Their mission: to give his son the burial he deserves. Along the way, the three (Steve Carell, Bryan Cranston, Lawrence Fishburne, all giving A+ performances) reminisce and end up giving each other what they needed most: a sense of community and brotherhood.
---
19 — Only the Brave
An emotional true story about Arizona firefighters who risk their lives daily to save communities, families, and cities from the horrors of wildfires — Only the Brave is an inspirational, hopeful, and powerful drama about real-life heroes.
---
18 — Wind River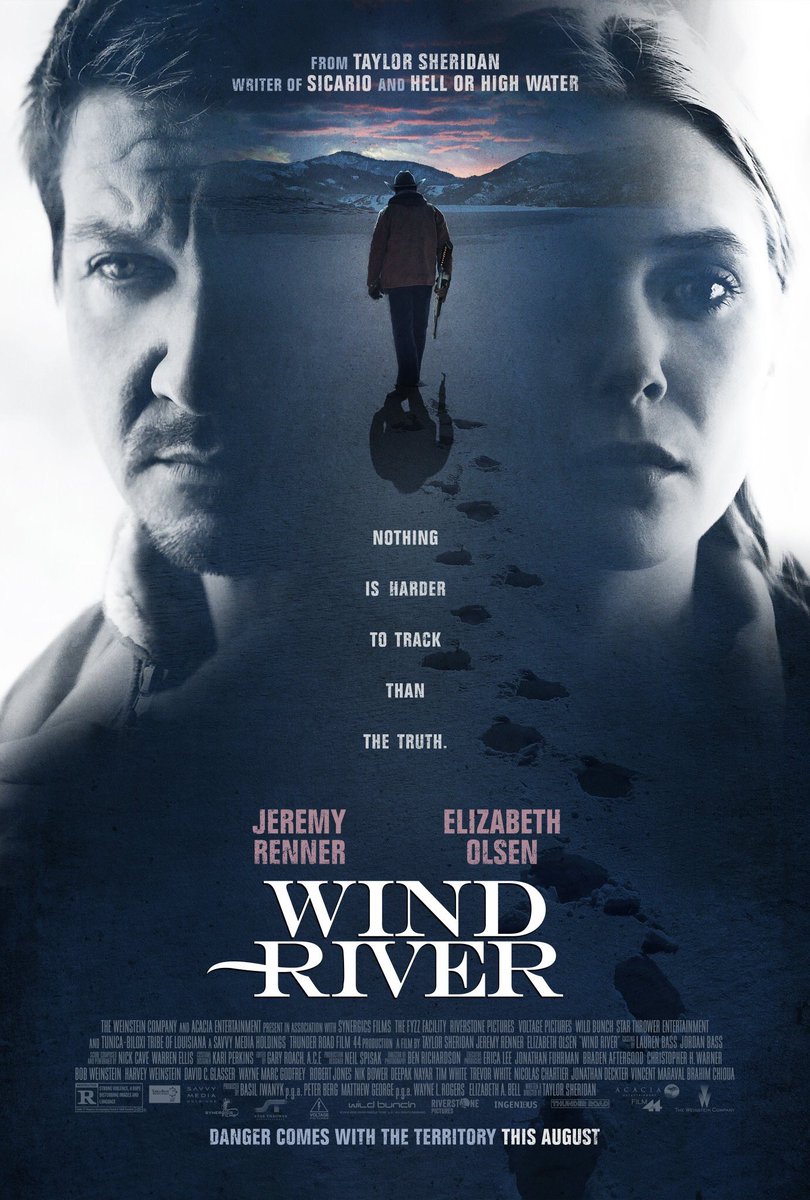 Jeremy Renner and Elisabeth Olsen make a killer duo as they attempt to solve the mystery of a local murder on a remote Native American reservation. Some great character development and compelling mysteries make Wind River one of the best dramas of the year.
---
17 — Logan Lucky
An offbeat and quirky action film with a Daniel Craig performance unlike any you've seen before. If I was to describe it as a "Hillbilly Ocean's Eleven", would that interest you? Yes? You're in luck.
---
16 — Coco
Pixar is back! After a string of underwhelming sequels, Pixar proves that they still have the power to pull off original, emotional stories about adolescence and fantastic unseen worlds. Just don't make me watch Olaf's Frozen Adventure before it starts again.
---
15 — The Big Sick
Comedian Kumail Nanjiani's autobiographical romantic comedy about falling in love with Emily (despite his Muslim family's wishes that he marry a Pakistani woman) as she is diagnosed with a mysterious illness is funny, heartfelt, and fresh.
---
14 — THE SHAPE OF WATER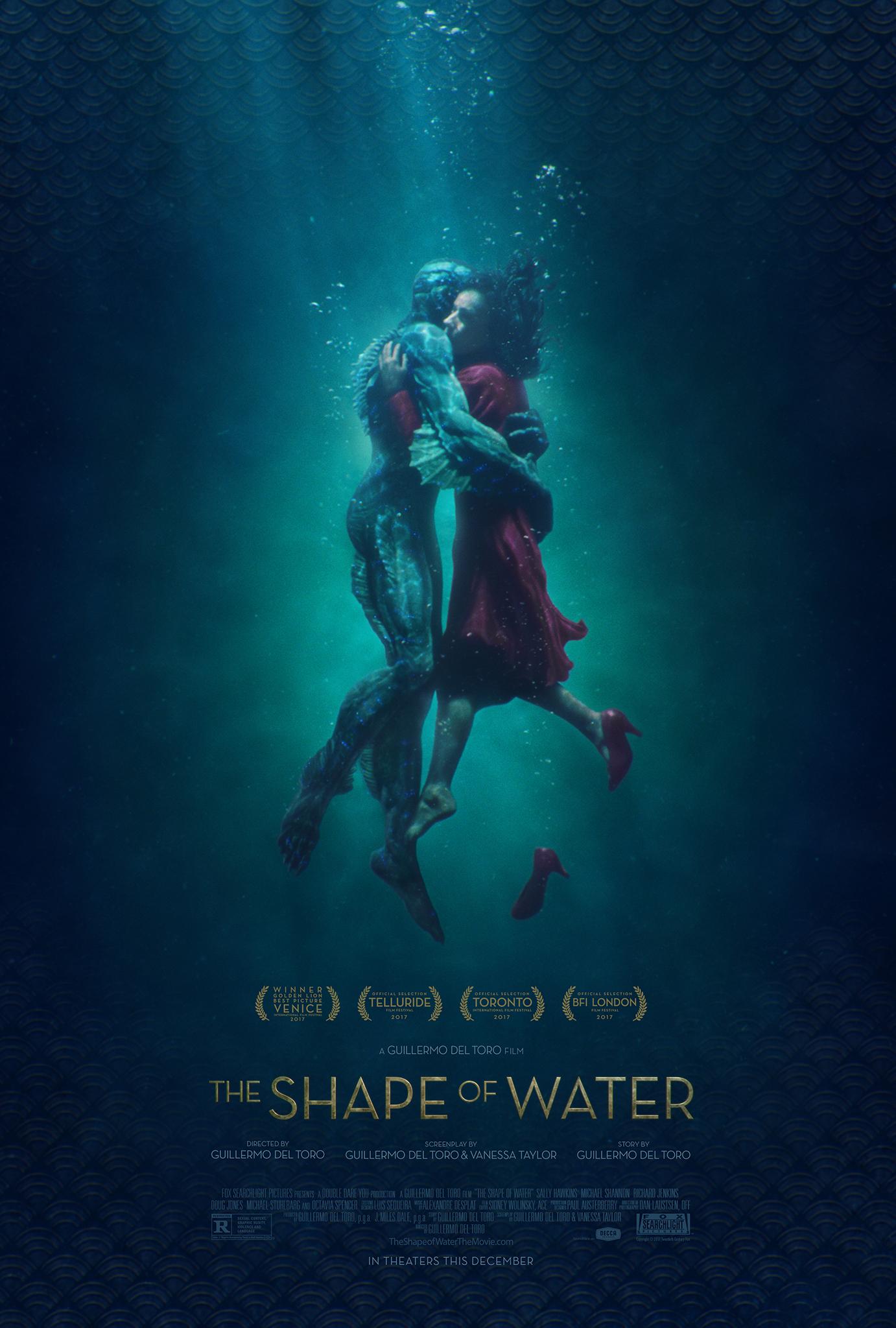 "Magical" is a good word to describe this modern fairytale. Beautifully directed by Guillermo del Toro, this 1960's-set re-imagining of The Beauty and the Beast is visually gorgeous and bolstered by an incredible cast. Maybe more so than any other movie this year, The Shape of Water "transports" you to a different world. And isn't that what movies are all about?
---
13 — DARKEST HOUR

The best performance of the year belongs to the unrecognizable Gary Oldman in Darkest Hour. Winston Churchill is a character who has been immortalized on film countless times – but now we have the definitive portrayal of the man who who led, against immense opposition, his nation with the weight of the world on his shoulders. Thrilling and dramatic, Darkest Hour is a historical drama with style.
---
12 — THE GREATEST SHOWMAN
The Greatest Showman is not a perfect movie — it's clunky in places, and doesn't really work in others. But when it works, it really works. Hugh Jackman increasingly impresses as the energetic P.T. Barnum, giving every scene his all, belting out tunes alongside a game cast. It's hard not to admire how everyone in this movie showed up with their A-game, and how a pure love of movie musicals infuses every frame. This wildly entertaining musical reminds you of what the spectacle of "going to the movies" is all about. And if The Greatest Showman doesn't fill you with utter joy at least once, I'm not sure you have a heart.
---
11 — THE GLASS CASTLE
Brie Larson is the best. And once again, she's great in The Glass Castle, starring as a young woman who grows up under her wildly joyful yet dysfunctional father's misguided approach to fatherhood. As an adult, she goes on to carve out a successful life for herself, but ends up learning the power of redemption and reconciliation when it comes to her relationship with her estranged father.
---
10 — Ingrid Goes West
Social media controls our modern lives. Many movies have tried to show this phenomenon on film, but maybe none have done it so well — and so comically — as Ingrid Goes West. The tale of an instagram stalker who travels to LA in an attempt to befriend a fashion idol she follows online is super smart, super dark, and super funny.
---
9 — WAR FOR THE PLANET OF THE APES
The thrilling conclusion to one of the best trilogies in the last decade or so, War for the Planet of the Apes caps off Caesar's story in spectacular fashion. Andy Serkis is phenomenal as always, and the visuals are incredible – this is how you do CGI. A poignant tale about leadership and the importance of family, War for the Planet of the Apes is everything Hollywood blockbusters should be.
---
8 — Lady Bird
Sure, I may be biased since I'm from Sacramento and I love the little city I call home. But Greta Gerwig's beautiful ode to adolescence, to growing up in Sacramento, and to coming around to loving the people and places that made us who we are, is such a winner.
---
7 — STRONGER

So much more than a conventional "overcoming the odds" drama/romance, Stronger is the incredibly moving tale of Jeff Bauman's recovery after losing his legs in the 2013 Boston Marathon bombing. Thrust into the limelight while trying to recover, he reluctantly is forced to take on the mantle of "hero" for his city, even though he may not feel like one. What happens when a new romantic relationship is thrown a wrench in the form of national tragedy, and when life thrusts upon us a role we feel neither prepared for or deserving of?
---
6 — WONDER
Wonder what the most delightful, feel-good movie of the year is? Wonder no more. This wonderful little movie has some beautiful performances, knows exactly how to tug at the heartstrings, and may or may not have made me cry numerous times.
---
5 — GIFTED
This endearing indie drama starring Chris Evans as a single father struggling to raise his gifted daughter is the most charming movie of the year. When people say "they don't make movies like they used to," this is the kind of movie they're talking about.
---
4 — Dunkirk
Christopher Nolan might have impacted the last few decades of film more than any other current filmmaker – no matter what some haters may say. It's easy to overlook how his style, storytelling technique and cinematic influence has created countless trends in mainstream Hollywood filmmaking we take for granted. Dunkirk may not be the best Nolan film, but it shows the Director firing on all cylinders – a thrilling, exciting war movie more concerned with sound, feeling and scope than dialogue or individual characters. This is the story of countless soldiers – on the land, sea, and in the air – who lived through the horrors of Dunkirk. It's a fascinating experience, and it might be the best war film since Saving Private Ryan.
---
3 — Baby Driver
A thrilling musical adventure through the streets of Atlanta, Baby Driver is the newest from Director Edgar Wright, who has given us some of the most unique, cinematic modern comedies. Baby Driver is a step away from straight-up comedy, blending music and action sequences unlike any film in recent memory. See it on the biggest screen possible – this is one of those movies that reminds you why going to the movies is so much fun.
---
2 —  The Disaster Artist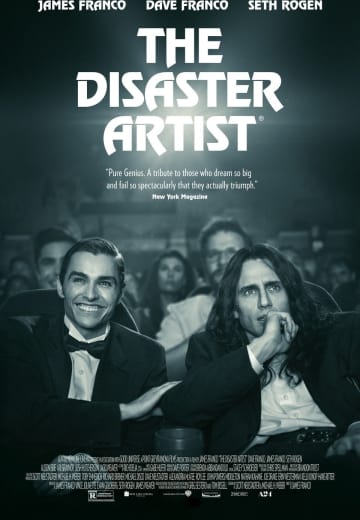 Okay, I get that many of you haven't seen The Room. I definitely recommend giving that gloriously bad 2003 drama starring the enigmatic Tommy Wiseau a watch. But The Disaster Artist, James Franco's retelling of the behind-the-scenes foibles on the set of The Room, is strong enough to stand on its own as well (though I still contend that you'll enjoy it so much more having seen The Room). What easily could have been a simple comedy mocking the bizarre antics of Tommy Wiseau instead becomes a moving (but still very funny) tale about friendship, ambition and pursuing the things we are passionate about… If you can, get some good friends together to watch The Room on DVD and then go watch The Disaster Artist together. That will not be an evening wasted.
---
1 —  Brigsby Bear
My favorite movie of the year is also the one I'm confident most of you haven't seen. Not only is Kyle Mooney criminally underused on Saturday Night Live, but now only like 87 people went and saw his brilliantly creative, quirky, funny and emotional comedy/drama Brigsby Bear in theaters. It's by far the weirdest movie I've seen in a long time – but weird in so many great ways. I don't really even want to say anything else about it because it would ruin the story. Don't even watch the trailer or anything, seriously. Oh and Mark Hamill is a main character in it too, if you haven't already been convinced.
---
Honorable Mention —  We Make Movies
Okay, I had to put this on here, right? I would never go so far as to imply that a movie I wrote and directed is one of the best of the year – ahem – but I'm pretty proud of it and I think it's funny so maybe you'll find it funny too. Amazon picked it up and you can watch it there for free.
And yes – it's not lost on me how ironic it is that 2017 saw the release of a comedy movie I made about characters making a bad movie (that ends at the premiere of said bad-movie), and then my two favorite films of the year ended up being comedies about characters making bad movies (that end at the premiere of said bad-movies). I'm not sure if there's anything to that or not…
---
Still need to see:
Phantom Thread, Hostiles, Mudbound, The Meyerowitz Stories

BECAUSE EVERYONE WANTS AN AWARD:
Who did it the best this year?
BEST ACTOR(s):
James Franco, The Disaster Artist
Gary Oldman, Darkest Hour

BEST ACTRESS: Saiorse Ronan, Lady Bird
BEST DIRECTOR(s):
Christopher Nolan, Dunkirk
Guillermo del Toro, The Shape of Water

BEST SCREENPLAY: Brigsby Bear
BEST MUSICAL SCORES:
Dunkirk
The Greatest Showman
BEST CINEMATOGRAPHY: Dunkirk
MOST OVERRATED MOVIES OF THE YEAR (HOT TAKES!):
Star Wars: The Last Jedi
The Florida Project
It

DESTINED TO WIN THE MOST AWARDS: The Shape of Water

So those are my big fat opinions about 2017 at the movies! You don't have to love my list; you don't have to agree. So let me know what your favorite movies were this year! But first, if you excuse me, I think I'll grab my popcorn bucket and head back to the theater. Time to start all over again!
© Matt Tory, 2018. 
All movie posters shown are used for non-commercial analysis and commentary purposes related to the films mentioned herein.